It's not just the dominance and consistency. There are more similarities than you might think, especially as the Warriors approach a possible crossroads.

It all started with this tweet from a Warriors fan account during this year's NBA playoffs:
It's true. The Houston Rockets are clicking right now, largely due a dominant, record-setting run by James Harden. And they look like they all know their role and love playing with each other.
The Golden State Warriors used to look like that. They rapped to a Big Sean song on the team plane. Their bench celebrations were top-notch. Dancing abounded. They brought out the best in each other.
Don't get me wrong, sometimes they still recapture that magic. They still have moments of pure joy — but not quite as often as they did a few years ago, when the novelty of dominance was still exciting.
And then I realized: The Golden State Warriors are the Beatles. And more specifically, the 2019 Warriors are the 1969 Beatles, on the precipice of a possible breakup after years of excellence. And it's happening exactly 50 years later.
Here are all the similarities.
1. Both were/are world-dominating and consistently excellent for extended periods of time.
The Beatles took over the world in their heyday. No musical artist before or since has been so consistent in their creative output and has so thoroughly permeated popular culture. The same goes for the Warriors — their grip over the entire NBA, winning three of the last four championships with a stacked lineup and launching their best players to increased stardom, has been unbreakable.


2. The four best Warriors players each have a Beatles alter ego.
Kevin Durant = John Lennon
KD and John are both remarkably talented and innately gifted. Their natural abilities are unparalleled. They know how to have fun and enjoy their surroundings, but they're also both prone to mood swings, can get in their own heads to the detriment of those around them, and both looked checked out at times in the later years.



Steph Curry = Paul McCartney
Both Steph and Paul are virtuosos in their respective crafts. They're naturally fun-loving and usually in good spirits, sometimes to the point of corniness. And they're good at toeing the company line, gravitating toward doing what is best for the brand. They're not going to go out and say something outlandish that makes waves, unlike Durant (lashing out at reporters, refusing to answer questions about free agency) or Lennon ("We're more popular than Jesus now; I don't know which will go first – rock 'n' roll or Christianity.")


Durant/Curry Combo = Lennon/McCartney Combo
Together, the combinations of Durant/Curry and Lennon/McCartney are historically exceptional. All four of those individuals are great on their own, but they have the potential to be even greater with each other. Nothing can beat a KD/Steph pick and roll (when Steve Kerr deigns to unleash it), just like nothing can beat a Lennon/McCartney composition. They've also had some really good times together, and often enjoy each other's company.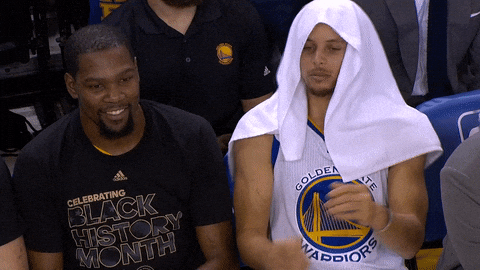 But while each one can flourish with their partner, it's not a seamless marriage for either pair. For them to collaborate well, it takes some effort — they are not necessarily natural fits together. KD and John have completely different personalities than Steph and Paul.
To sum it up, this is probably how John looked at Paul when Paul was trying to record "Ob-La-Di, Ob-La-Da."
This is the clip going around NBA twitter this morning, KD not engaged with Steph's playful antics AT ALL. 💀 https://t.co/Og47icoGUv

—
•Association Addict• (@AA_BallTalk) April 16, 2019
Klay Thompson = George Harrison
Klay and George are the stoic, reserved ones. They both possess quiet senses of humor. And they both have the ability to completely take over and own the moment, shining brighter than any of their more accomplished group members (Klay's 37-point quarter or 60 points on 11 dribbles; George's "Something," "Here Comes the Sun," and "While My Guitar Gently Weeps"). But Klay and George are still clearly the third-most prolific members of their groups.



Draymond Green = Ringo Starr
Admittedly, their personalities are pretty different. Ringo is not a hothead like Draymond. However, their roles in their respective groups, and how those roles are perceived, are strikingly similar.
Both Draymond and Ringo possess skills that undoubtedly improve the group's performance, but those skills often go wildly underrated due to their other limitations. Draymond is not a great scorer, but his passing, defense, energy, and high basketball IQ grease the Warriors' wheels. Ringo is not the most technically proficient drummer, but his reliability, rhythm, and his understated style brought the best out of the other Beatles.
While much of the criticism they receive can be unfair, or go too far, there are some real questions about whether they would be as good and impactful in other groups. They certainly benefit the most from their "systems," be it Steph, KD, and Klay's phenomenal scoring ability, or John, Paul, and George's outstanding songwriting.


3. If rumors come to fruition, a breakup is imminent.
There have been rumblings all year that Kevin Durant is possibly on his way out once this season finishes. The New York Knicks, with their cap space and big city lights, are said to be the main threat to plucking him from the Warriors. The reason these rumors persist is because KD hasn't really done anything to quell them. He has seemed distant throughout the 2018-19 season. This is, of course, purely based on speculation, but it has often looked like he's not happy as a member of the Warriors and needs a change of scenery. That's absolutely how John felt in 1968-1969 as well. Even though the Beatles were at the top of their game still, it was all getting old. John was still participating, showing up to the Let it Be sessions in early 1969, but he wasn't fully there. A lot of that had to do with Yoko Ono entering his life, which begs the question: are the New York Knicks the Warriors' Yoko Ono?
Anyway, for both the 2019 Warriors and the 1969 Beatles, everything was starting to feel stale. Which brings me to how I thought of this comparison in the first place.


4. Each Warriors championship corresponds with a post-Sgt. Pepper's Beatles album.
Time to make this extended metaphor even more ridiculous and fun — comparing NBA championships to Beatles albums (and a Beach Boys album). And, to make the metaphor even more perfect, each championship comes exactly 50 years after its counterpart.
2015 Warriors Championship = Rubber Soul
(2016 Cavaliers Championship = Pet Sounds)
First off, the Warriors' 2015 championship was their Rubber Soul. After their quick rise to stardom and some solid, promising performances, both the Warriors and the Beatles reached the mountaintop for the first time. It was the Warriors' first championship in 40 years, and the Beatles' first transcendently great album.
By extension, the Cleveland Cavaliers' championship the following year is the Beach Boys' Pet Sounds. When LeBron James and the Cavs unexpectedly won it all in 2016 and took the crown from the Warriors, it was akin to Brian Wilson hearing Rubber Soul, being blown away, and responding by striving to top it, which resulted in the glorious Pet Sounds. Both the 2016 championship and Pet Sounds are LeBron and Wilson's respective crowning achievements.
So yes, LeBron James is Brian Wilson. And, because the universe loves us, that means Kevin Love of the Cavs… is Mike Love of the Beach Boys, his literal uncle. I'm not joking — NBA star Kevin Love's uncle was literally in the Beach Boys. You can't make this up. The only slight issue with this narrative is Kyrie Irving is really the true Mike Love counterpart: each the second-most famous members of their groups, and both lacking requisite respect and appreciation for LeBron James/Brian Wilson, the ones who made the Cavaliers/Beach Boys as good as they were in the first place.
2017 Warriors Championship = Sgt. Pepper's
The Warriors responded in 2017 by signing Kevin Durant and going on a dominant playoff run to win the championship — their Sgt. Pepper's Lonely Hearts Club Band. They went 16-1 in the playoffs, reaching their maximum potential with everyone firing on all cylinders. The pinnacle they achieved is very similar to the non-stop creative breakthroughs and cultural takeover the Beatles achieved with Sgt. Pepper's, which is often considered the greatest album of all time.
And to earn that 2017 championship, the team had to conquer LeBron James and the Cavaliers. The oneupmanship had continued, just as it did when Paul McCartney heard Pet Sounds and responded with Sgt. Pepper's. Reports say that Paul played "A Day in the Life" for Brian Wilson before its release, and its gravity demoralized him. It wasn't the sole cause of Wilson's descent from his musical peak thereafter, but it was a factor. Similarly, LeBron hasn't won a title since 2016, his Pet Sounds championship.
2018 Warriors Championship = The White Album
The Warriors' 2018 championship was their White Album. The Warriors and Beatles were both not quite as cohesive as in years previous. There was a splintering among them that knocked the team chemistry out of whack just a bit, but through sheer talent, they both still created a classic.
2018-19 Warriors Regular Season = Let it Be Sessions
Then this season came. The Warriors are still good, but it's getting a bit harder to keep it together. Kevin Durant and Draymond Green got in a public and heated disagreement early in the season that has arguably cast a pall over the season and messed with team chemistry even more. The crack in the armor was never larger than when the Warriors blew a 31-point lead to the Clippers in Game 2 of their first round series. They looked dead out there. Their hearts were not in it.
This makes the 2018-19 regular season and first round of the playoffs their Let it Be sessions. I already mentioned that John was distant during the recording sessions, but those times were also famously fraught with disdainful sniping and contempt, in addition to some creative stagnancy.
2019 Warriors Playoff Run = Abbey Road?
The Warriors are still immensely talented, and are favored to win it all if they kick it into high gear. So, despite the staleness and the reduced team chemistry, can the Warriors overcome it all and make a final masterpiece, a.k.a. win one final championship together, a.k.a. make their Abbey Road before Kevin Durant leaves the group? We shall see.
____________________________________
P.S. As I alluded to before, the Cleveland Cavaliers are the Beach Boys, LeBron James is Brian Wilson, and the New York Knicks are Yoko Ono. If you want to extend the metaphor even further:
Steve Kerr is George Martin.
Harrison Barnes is Pete Best. (These two were suggested by a fellow Twitter user.)
Bob Myers is Brian Epstein.
DeMarcus Cousins is Billy Preston.
Monta Ellis is Stuart Sutcliffe.
The Houston Rockets are the Rolling Stones.
You can surmise the reasons behind all of these comparisons for yourselves.


Read more: The Similarities Between Kanye West and Kobe Bryant